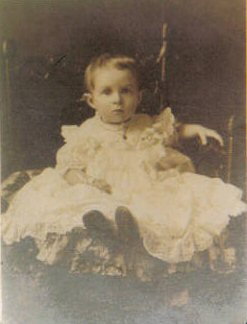 Ada K. Anderson

Brita gave birth to a little baby girl named Ada K. Anderson on July 9, 1913.
We do not know what the middle initial-K-stood for.

She died on February 18, 1916. Her age was 2 years, 7 months, and 9 days.
This means that she died just little more than a month after Albert's death.
Read the newspaperclippings about Albert's accident and the obits here &raquo
Both Ada and Albert are buried in Hillside Cemetery, Monson, Maine. See grave &raquo

Cause of her death was listed as bronchial pneumonia, cold, and rickets. Rickets is a very "old" disease caused by lack of Vitamin D.
No one ever dies of rickets in the industrial world today. I believe it is associated with extreme poverty.


Now think about where Brita was in her life -no husband, no baby and no way of feeding herself. A woman could not survive without a husband in those days. Enter Albert's younger half-brother (same father, different mother) Olof Axel Andersson (my grandfather). He had immigrated to America on October 13, 1906 from Tjerned, Nora.
Apparently, Olof Axel became Brita's husband shortly after Albert's death. They journeyed to Winnipeg, Manitoba, Canada to get married. See Marriage Certificate

Following the marriage in Winnipeg, they moved to Fort William, Ontario, Canada. The city is located on the north -west shore of Lake Superior. It had a large Swedish population in 1916. Axel's half -sister (same father, different mother), Anna Stina Andersson, her husband, Nils Petter Nilsson and children were living there. We are currently trying to discover the details of the Nilsson family emigration to Canada and ultimately the U.S.A.

My beautiful mother, Irma Katarine Anderson was born on March 14, 1917 in a barn-shaped house on Harkness Street belonging to her aunt Anna Stina Andersson-Nilsson. Evidently, grandma wanted to have a healthy baby and ate lots of Swedish buns while pregnant. My mother was a big baby when she was born.
It is believed that my mother was named after Olof Axel's mother, Katarina Karlstrom. She was the second wife of Per Andersson. I have recently learned that I was named after Olof Axel's grandmother, Carin Mattsdotter, (Katarina's Karlstrom's mother). The spelling of my name has unfortunately been changed to "Karen".

It appears that Fort William was slightly kinder to the Andersons than Monson, Maine. Grandpa was a carpenter who built houses. They were eventually able to buy a few "nice things" like table cloths and a bit of silverware, for the dining room.
Later, during World War One, Olof Axel worked at Canada Car and Foundry. I think they made vehicles for the Canadian troops overseas. It was here that Axel accidentally chopped off the three middle fingers of his left hand with a saw.

The family lived in several houses in an area of Fort William called West Fort eventually settling at 735 Harkness Street.
Brita, Axel and Irma were members of the Swedish Lutheran Church on Pearl Street. Mother wrote her Confirmation exams in the Swedish language.
Both Brita and Axel loved music and enrolled my mother in piano lessons. My mother was a very talented student. Irma married in 1945 and had four children.




Brita Kristina and Family 1952
Irma standing (pregnant with Andrea) Brita on left
holding baby Kalvin, Olof Axel holding Karen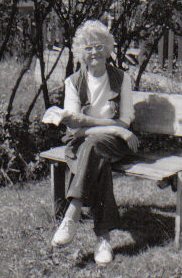 Brita Kristina in our back yard in 1952.
Lilacs in the background


Brita loved and cared for Olof Axel as long as she was able in their little house at 735 Harkness Street in Fort William. Grandpa Olof Axel was difficult man for us children to get to know because he was very quiet. I now think he was quiet and strong. Grandpa died Dec.19, 1968 at 81 years.
Brita moved in with our family when she was old. My youngest sister, Adrienne, took care of her. Hulda and Rita Gleason-Emmons visited Brita, my mother, and our family in around 1969. Brita Kristina died on Feb 14, 1972 at age 86.
My grandmother, Brita Kristina gave me many gifts. She taught me how to knit and sew. She enjoyed smelling the lilacs in the spring and I always think of her when I smell them. I miss her energy.





** Article written by Karen Korpela-Beaujot**
Irma Andersson's oldest daughter
May 2006





A big thank you to Karen for sharing this wonderful information about Brita Kristina and her family.
As I have Karen's permission to make changes and add more info to this article, as we learn more about Brita Kristina, more info have been added and a few corrections have been done!

Sincerely,

Tina