S/S Calypso was built for the Wilson Line in 1904 at Hull, England by Earle's Shipbuilding & Engineering Co. She was launched the same year and was engaged in the conveyance of Scandinavian emigrants to Hull for many years. She was originally built for the Gothenburg service, but also served on the Kristiania route for some years.

There was accommodation for 45 1st-class, 46 2nd-class and 200 steerage passengers. An additional 570 passengers could be carried in temporary accommodations on the between deck, which could else be used for cargo. Her 3 cargo holds were refrigerated for the carriage of fish and other fresh foods.

In 1916 the Calypso was torpedoed in the Skagerak, 30 crew and master were lost .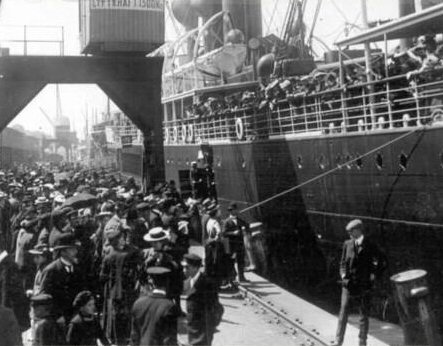 The Wilson Line S/S Calypso departing Gothenburg for Hull with emigrants




Relatives who was a passenger aboard The Calypso:

Brita Kristina Gidlöf August 23, 1907