Pasternak
Family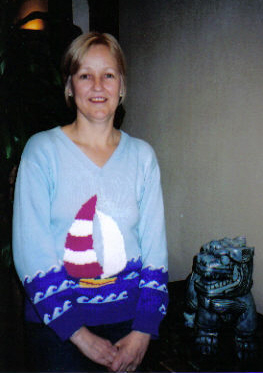 Adrienne
photo taken 2006
Adrienne Eleanor Korpela is the grand child of Brita Kristina and the fourth child of Irma Andersson-Korpela and Sulo Korpela. She was born June 14, 1956.

Presently Adrienne lives in Thunder Bay, a short distance from the original family home.
She married Patrick Douglas Pasternak Sept. 22, 1984. They have one child, Michael James, born Aug. 24, 1987.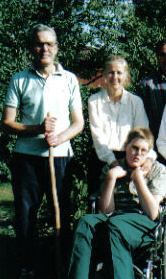 Adrienne and family 2001



Adrienne spends many hours in her beautiful garden. The flower beds are surrounded by stones that she laboriously brought from nearby Mount McKay. Adrienne enjoys relaxing in her garden beside the little water fountain.

Adrienne is fortunate that she received training as a Nurse's Aid in her late teens. Her training and work experience in the health care field has assisted her in being able to meet the physical and mental challenges of caring for her husband, who has Multiple Sclerosis, her son, who has Cerebral Palsy, and herself, who is a four-year breast cancer survivor.

Adrienne enjoys listening to all kinds of music and is quite good at fixing things around the house.






** Article written by Karen Korpela-Beaujot**
May 2006





A big thank you to Karen for sharing this wonderful information about Adrienne and her family.

Sincerely,

Tina




Back to Adrienne